Best Gifts Every Mom Will Love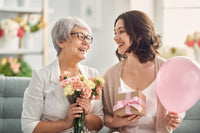 How do you even begin to shop for your mom?

I mean she is practically a superhero. She literally grew you inside of her out of nothing.

Then she raised you, took care of you, did everything she could to make sure you had the best life possible.

So how do you even begin to pay her back?

You can't.

BUT, you can at least show her your appreciation for all that she's done by getting her a gift with a personal touch to it.

And that gift is at Family Gift Co.

At Family Gift Co., we have a wide selection of mugs, prints and canvases, all of which are customizable to make the perfect gift for mom.
Canvases & Prints
Each canvas from Family Gifts Co. is made in house from sturdy pine frames.

We have a wide variety of canvas and art prints, from beautiful scenery or simple designs, all of which are customizable!
Mom Names Wood- Inspired Canvas
24x16 - $69.95
36x24 - $99.95
48x32 - $159.95
This heartwarming design features "MOM" split up by the names of her adoring children scripted in cursive on a wood designed background.

It kind of metaphorically represents how a mother's children really make up who she is.

It's a simple and elegantly crafted canvas and will go with almost any styled room.
First A Mom Premium Canvas
18x12 - $49.95
24x16 - $59.95
36x24 - $79.95

What is the only thing better than having kids? Having grand kids.

You get to see a child grow up with far less responsibility and headaches.

So, for the new grandma in the family, get her a canvas the reminds her of the new happiest day of her life.


Ocean Dock Color Multi-Names Premium Canvas
24x16 - $69.95
36x24 - $99.95
48x32 - $159.95
One of our best sellers, this multi-name canvas features a gorgeous ocean background and a customizable signpost where you can include everyone's names in the family.

Or just yours so your mom knows who is her favorite.

There are tons of backgrounds to choose from, including:

Ocean Breeze
Mountain Range
American Barn
Lake Dock
Autumn Road
And more!

Canvases also come in vibrant colors or black and white, as well as realistic photos or artistic/cartoon prints.
Mama Bear Names Premium Canvas
18x12 - $49.95
24x16 - $59.95
36x24 - $79.95
Want to give your mother something that will last longer than the undercooked pancakes and chewy bacon that comes with breakfast in bed this mother's day?

Then how about this mama bear mother's day canvas?

Each bear features a different name to represent all of your mom's favorite little cubs she gets so protective over.
Mommy Shark Names Premium Canvas
18x24 - $49.95
24x26 - $59.95
36x24 - -$79.95
Remember that baby shark song? Remember how annoying that was?

Yeah… anyway, get the love you have for your mother stuck in her head with this mommy shark canvas!

Each adorable little baby shark is customizable to say the names of each of your mom's adorable little children.
Mugs
Your mom loves coffee. No, you didn't just get your mind read. It's common knowledge that all moms love and need coffee to get them through the day after raising kids for all of those years.

So show your appreciation for all of the sleepless nights that came with turning you into an acceptable adult by giving her a coffee mug to hold the liquid energy she so desperately needs.

The best part is that you can customize these mugs, that way your mom will remember just who makes her so tired all the time.
My Greatest Blessings Mug
11oz. - $17.95
150z. - $19.95
Your mom is the best, but you're also the best, and here is a mug to remind your mom of what a great blessing you and your siblings are.

This mug will also make sure your mother will never forget your birthday so she can show her appreciation of the fact that you are in her life.
Mom And Daughter/Son State Mug
11oz. - $17.95
15oz. - $21.95
Love knows no distance, and now this is visually represented on a mug!

At check out, you can customize this mug with any state you want to tell your mom that you moving away totally wasn't to get away from her and that your love is just as strong as it was before.

In addition, there is a custom countries one, where you can pick two countries instead of states, in case you really needed to get away from home.
Mom I Love You More Mug
11oz. - $14.95
15oz - $19.95
Got a sibling rivalry going in your family?

Then Family Gifts Co. has the mug that will settle the score permanently.

This mug will prove that you love your mom more than your sibling, and they won't be able to argue with you on is.

It literally says "I Win." With a period. It's a statement of fact. It doesn't get any more final than that.
For More Gifts Mom Will Love
Are none of these gifts quite doing it for you?

Then head on over to our online shop at familygiftsco.com and browse for yourself!

We have a ton more designs to choose from, each customizable to make a perfect gift for your mom.

Browse our general selection, or check out our hand-picked section of some of the best gifts for mom.

Just go to the top left section of our website, click Shop -> Gift Ideas -> Gifts For Mom.

Whatever occasion it is, we guarantee you will find the perfect gift for mom at Family Gift Co.!